The following may be a little one sided, with yellow/blue glasses and the facts might just be Markfacts, but the standings are final. Rad Gravity's Hellas Verona found themselves in a frantic relegation battle, neck deep in shit and the sweet wage decrease of the 2nd division sounded like a siren's soothing song. After a winning streak of 4 matches, Verona had gone from a mere 14 points to 26 with 27 matches played, but still everything was but secure before the last 3 matches of the season.
The frantic relegation battle turned into a bland dance-off:
It all started with a sour defeat versus the now promoted Cardiff. After taking the lead, Hellas Verona fumbled in defence and "gave away" a goal in the 63th minute. Just to see Bluebirds Cardiff secured the victory two minutes later, riding the momentum, with a delicate shot by Giroud from right outside the box making it 1-2.
Next match was against another promotion chasing candidate, Bridgey. A tough and tight match that ended 3-3, where Dzagoev scored a freekick from just outside the box in extra time, winning a very, very important point (without it, Fertepony would have crawled past on the tables with a better goal difference).
The last match was against Baz, and Verona found themselves two goals down after 14 minutes. But 76 minutes later, they came out on top and crawled past Baz on the table at the same time with a decent 4-2.
After 30 played matches, and four points more, Hellas Verona had gathered 31 points in total of the debut season and had a goal difference (GD) of negative 25. They were now on safe ground for the first time this season. The teams that was chasing Verona and potentially go past and send Verona to 2nd division was:
| | Played | Points | GD |
| --- | --- | --- | --- |
| Baz | | 28 | -15 |
| Fertepony | 25 | 25 | -12 |
| Alex | 24 | 22 | -22 |

With no more games to play, the destiny was now in the hands of these three gentlemen. Analysing the remaining fixtures, there were a few key matches:
Fixture 24: Alexselva Vs Fertetoprioni: 2-2
Rad Gravity could not have hoped for a better outcome, and now the whole of Verona believed.
Fixture 28: Bazncfc vs Mancan: 3-0 (or was it 0-3?)
Anyway, Baz got the points and climbed above Verona on the tables. More or less safe from relegation.
Fixture 29: Bazncfc v Alexselva 1-1
Could have been a decider, where three points to the canaries would have made the great escape.
Fixture 25: Dortabadboy Vs Alexselva 2-1
The last fixture played in the relegation dogfight. If Alex got three points he would survive, pushing Rad down. The uncertainty was unbearable. PMing both; "has it been played", "when are you playing", "what was the score", "ahhh"...

| Final standings | Played | Points | GD |
| --- | --- | --- | --- |
| 11. Baz | 30 | 32 | -21 |
| 12. Rad | 30 | 31 | -25 |
| 13. Fertepony | 30 | 30 | -18 |
| 14. Alex | 30 | 28 | -24 |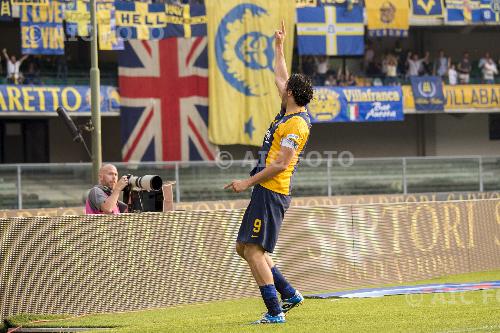 At the end of the day I would not have cried if I did get relegated. Might had been nice with new faces and a relief of the muppetry of 1st division together with the wage bonus. But there are a short way from promotion fight to relegation fight in 1st division, and whichever the fight next season, I am now packing heat.
Good luck in season 9,
Kristian