To look at The Network's stats this season, Meyer, as an offensive outlet, has returned a solitary goal to add to a handful of assists yet he is the man hallmarked as the catalyst behind the team's rise to the top of Division 1's Western Conference. So what is it about the unproductive German that sees him held in such high regard? And why does the side struggle so much without him?
'It's simple really' says PEN manger Sunzibad 'he's a playmaker'
Whilst that sounds like the blindingly obvious there is more to it elaborates Sunzi
'He's a playmaker not because he makes plays for others - he is a playmaker because he makes others play'
'There is a difference - Max will create, sure - he might score, sure, but his biggest asset is his ability to increase the productivity of others;
A notion seconded by the club's top-scorer Angel Correa:
'Apparently I have more assists than Max - the ironic thing is Max assists my assists'
The team is built around Meyer because 'realising his potential unlocks the talents of four others' Sunzi asserts, the four around him to be precise. The mercurial Meyer is deployed behind the Argentine forward line of Lucas Alario and Angel Correa and is protected and bolstered by Box-to-Box runners either side in Mario Lemina and Sebastian Cristoforo. All four have enjoyed excellent form in the system; Correa has created almost as many as the 11 he has scored, Alario has hit the ground running with 2 in 2, whilst Cristoforo recently scored his first for the Club. Lemina has arrived to replace outgoing captain Blerim Dzemaili whose sale could be one of the regrets of The Network's season. The Swiss stalwart had been revitalised under Sunzi scoring a number of vital goals leading with several Man of the Match performances but Gabon international Lemina has already gained the praise of opposition managers and has impressed with his start to life at Pookeynoodle Park which bodes well for the forum side.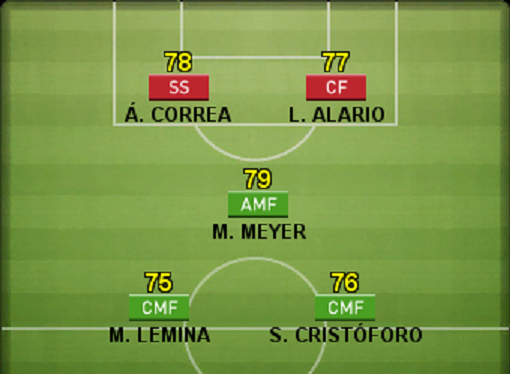 For Meyer though, his only goal of the campaign, the insignificant 4th in a 5-0 rout over Sporting Club, has led to question marks over his ability to deliver. The man himself is unconcerned: 'Of course I would like the statistics to recognise my performances but the recognition of my team-mates, the manager and the fans is more important to me' and mocked: 'stats can be manipulated to show anything - after all, we were undefeated in the 9 games I have played since arriving here - maybe that's down to me? The statisitics could be used to say that, no?'
Clearly Meyer is unaffected by the criticism and whilst the stats seem to suggest that he does nothing, his delightful mazing runs and deft touches continue to captivate. He has the support of his team-mates and the manager's system revolves around him which serves to highlight just how influential he is to the team, yet the murmurs continue... but ask yourself this when watching him play: 'are you not entertained?'