WITH A WHOPPING 5 BILLION PENCE SWAPPING HANDS IN THE FIRST FEW DAYS OF THE MARKET OPENING WE TAKE A BRIEF LOOK AT THE SHAKERS AND MOVERS.
I'm pretty sure that if we all invested the same amount of time and effort in to, say, Stocks and Shares as we do in PEN, we'd all be millionaires by now
. Fuck that for a laugh though - sounds like hard work - so let's focus on the real interest of our lives: The PEN Transfer Market and the Top 5 deals of the Season 12 Window.
Coming in at number 5:
5.
77 C. WILSON
Fee: £53.6M
From: Tezmac
To: Donkeyhugger
With wages barely over 500k Tezmac must have been sweating at the thought of breaking the club's wage scale so decided to sell the Englishman. Wilson boasts high speed and a more than modest 79 Finishing, so it's no surprise that he was in demand and it was the Hugger of Donkeys got the final say.
Tezmac's thoughts on the deal:
'Wilson is lethal and wins games on his own. I was struggling to fit my 30 roulettes per game in as he was too busy scoring so he had to go. I also didn't want to sell him to a pookeynoodle, so what a better transfer than to sell him to the best newcomer!'
'It was a right deal, right time situation'
Donkeys thoughts on the big deal:
'Admired him from afar for a while (Wilson, not Tez, although I assume Tez is quite lovely) but never been able to afford him whenever he appeared on the market. After getting lucky with a couple upgrades and a very cheap Jagielka on Deadline Day which sorted my defence out, I was finally able to land a speed freak that knows were the net is. Hoping it helps me fair better than my disappointing 1st season'
Tezmac was very happy with his deal with the Donkey
Moving on to number 4:
4.
82 I. GUEYE
Fee: 55M
From: Spragga
To: AFC Grimbo
Grimbo and Spragga where both content with this deal, no haggling was needed as they explain:
'This deal, in my opinion, was a great one for Grimbo' Spragga says. '55M for what is probably the best CMF on PEN - would rather have not sold, but he came in with a 55M offer and I thought that was good enough for my situation'.
Grimbo followed up with:
'Yeah I saw Spragga put him up - I valued him at about 60M so I went in at 55M to beat out all the cheap pookeynoodles that were interested... didn't think he would accept it there and then.. I think it worked for both parties he needed dirty cash and I had it!'
Simply done - and so we move on to number 3:
3.
79 ANDRE SILVA
Fee: 60M
From: Baz
To: Coniglio
A lot of cash for the highly rated youngster but was a simple transfer for Baz - like they always are:
'Had to be done to balance the squad . Nelson is the better CF anyway'.
Coniglio says: 'We needed someone that was able to finish in front of the goal. He will give us that as hes good with his feet and in the air'.
Not many new folks come in and slap the cash out on the table like this, so hats off to the fella - well in Coniglio.
As we continue the countdown at number 2 is:
2.
76 K. IHEANACHO
Fee: 60M
From: NikoNikolson
To: Jookoi
Didn't we all breath a sign of relief when Niko finally sold this young hotshot Nigerian - maybe Jookoi just bought him to stop the never ending threads Niko kept burning our eyes with everytime you logged into the PEN.
But of course it was not so simple as Jookoi explains:
'Well, don't really know what to tell. I was about sell Oli Torres and was looking for a CF then saw Iheanacho and thought f**k it'
'Big bucks but the way he's played is well worth it. Main point, it was a quick, simple and easy deal, just like always with Niko'
Niko's explanation of the sale:
'Ihea asked me to sell him to Finland he likes the weather'
Finn and Jook on securing the deal.
But now we get to the record cash transfer of the season with an eye watering £70M trade:
1.
79 C. PAVON
Fee: 70M
From: Venom
To: Sunzi
Young, tidy dribbler with great body movement but enough about Sunzibad this is all about Cristian Pavon!
Has it all and easy to see why Sunzi paid what he did, pace, agility, more cards than Card Factory (but not quite as cheap), and to top it off , joins Sunz's other love interest - Ricardo Centurion:
'One of the biggest prospects in Argentina at the moment and an absolute slag in game, the chance to reunite him with Ricky Centurion was too good to pass up.
I paid 10M too much IMO but I had done well in the market elsewhere so was prepared to stump up to get my man. I have no intentions to sell anytime soon so I'll get that 10M back on the pitch.'
And what was River Plate's number one fans thoughts on the trade?
'Just refused to perform in the scum stadium wearing scum colours..70m was offered and the exit door was shown!'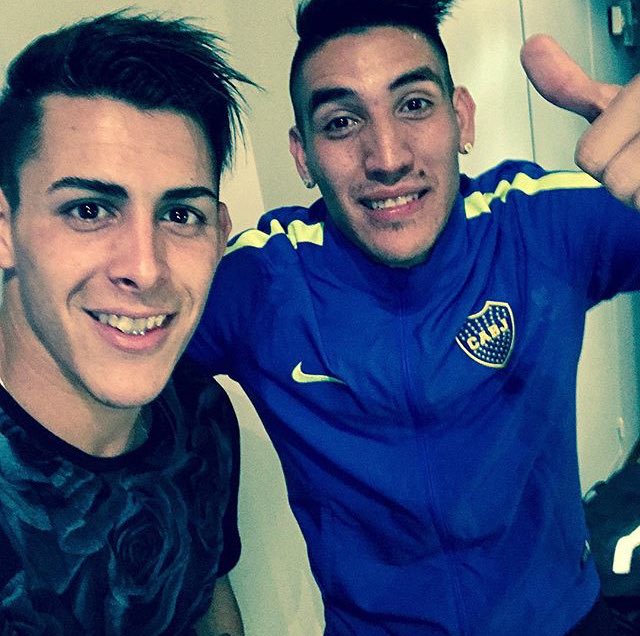 Pavon and Centurion with Sunzi managing to grab the photo one-handed.
Cash To Burn
So only a few days in and with mega bucks flying everywhere, there are a few notable mentions in the madness and pre-season shenanigans:
Spragga's wages are a mega £146.5M!!!
Grimbo has 3 entries in the top ten cash transfers spending over 100M but the real price to pay, after Grimbo's secretary dropped the ball and misjudged a transfer, is the one that has left him leaving him in admin along with another fellow PENner who left all his eggs in one basket, BirdpersonC137. Yes birdy let one transfer fly over the cuckoo's nest and take a dump on his squad.
In deep shit and already in admin, a reminder to us all to keep our eyes on the ball with Davo icking his lips at the prospect of an early cash injection:
Davotek: Burn it all - I need to make space for wages!
Number Crunches and Conspiracies
Over 300 player moves, with just under 300 deals made in a few days at an average of almost 42 deals per day - it's been mental.
Highest wage Bills include: Spragga, Sean and Chucka with over 100M each - expect to see some threads up sooner or later.
PS4 Prem overall wage bill sits at just under 800M, proving that they are in fact the sweatiest of bawbags. (My relegation means nothing to me, nothing! pookeynoodles!)...
Moving on with gritted teeth, I am happy to announce that Xbox Div 1 has the lowest overall wage bill of £169M.
But forget all that stat nonsense there was a conspiracy at large; by day he was ClaretChris but at night he became . . . ClaretMatt!!! 2 separate leagues but a chance to float players between each of his teams for reduced rates and sexual favours for himself.
Unfortunately this turned out to be bollocks, but it does give me an idea if I can find a cheap Xbox...
That's a quick look at pre-season but I hope to do a more in depth review once we are in full flow; it's already the perfect start to an already buzzing season - you almost forget there is fixtures still to come!
Good luck to all those wheeling, dealing and feeling the season - what are you waiting for... The market is open!!!