TEAM PERFORMANCE
Mixed feelings at AZ Alkmaar, after getting 100% score out of the first 6 fixtures, points were dropped in the following 6 fixtures. After the amazing season start, AZ Alkmaar managed to win 2, draw 1 and lose 3 games. AZ Alkmaar is still competing for the top spots in the PS4 Prem, but it could have been alot better, although AZ faced some good opponents. Some shocking results for AZ Alkmaar, especially against Rambovanhardnut, that was really embarrassing. AZ Alkmaar felt unlucky against Seanachais and Goat, although Goat probably played better, always hard to concede in the last 5 minutes of a game. In the game against Seanachais, AZ got done by classic Falcao scripting, as you can see in the following picture, he was clearly offside.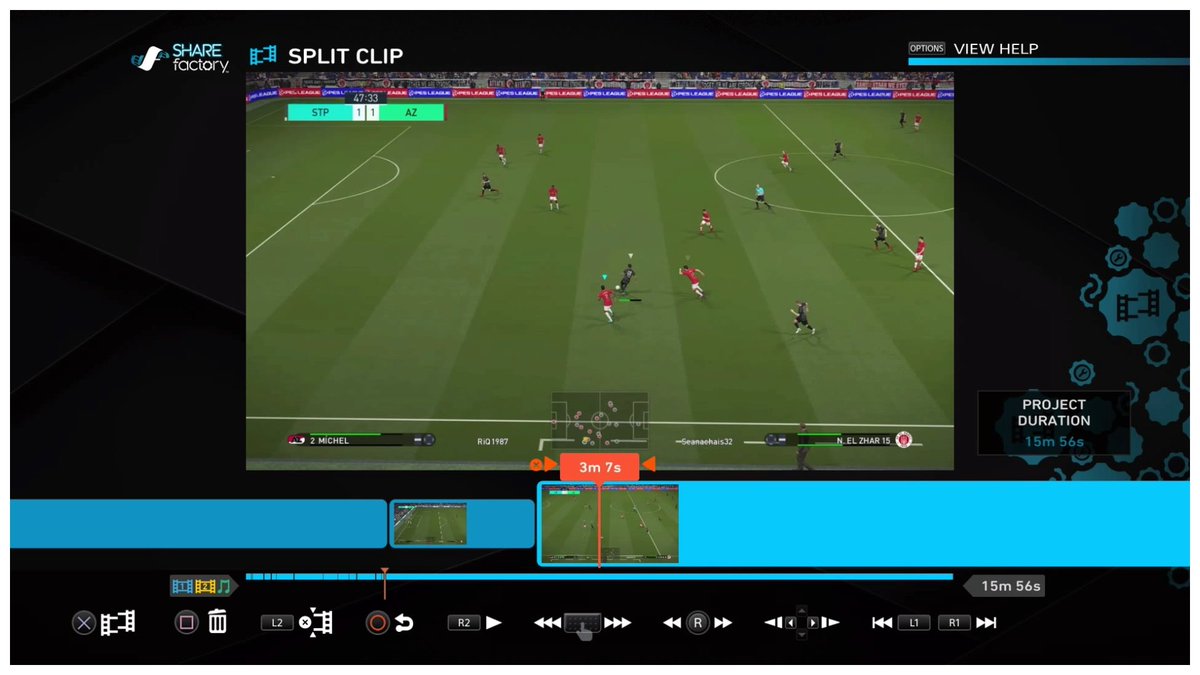 Stade Rennais (Cartesian5th) 1-2 AZ Alkmaar
AZ Alkmaar 3-0 AS Roma (NikoNikolson)
AZ Alkmaar 2-0 Villareal (BigBoss)
River Plate (Venom984) 2-4 AZ Alkmaar
AZ Alkmaar 2-1 AS Monaco (Sunzibad)
Ajax (Spragga) 0-5 AZ Alkmaar
Boavista (Rambovanhardnut) 5-1 AZ Alkmaar
AZ Alkmaar 3-1 Guangzhou Evergrande (Wheresmark)
St Pauli (Seanachais) 3-3 AZ Alkmaar
Burnley (Chucka) 2-3 AZ Alkmaar
AZ Alkmaar 1-4 Clermont Foot (Qvart)
Pescara (Goat) 1-0 AZ Alkmaar
TOPSCORERS
Sebastian Driussi - 9
Claudio Aquino, Robert Mak, Brandley Kuwas - 3
Mehdi Abeid, Angel Romero, Alessandro Matri - 2

After 12 fixtures, Sebastian Driussi is still leading the charts, with 9 goals in 11 appearances. He had to miss out on one game this season, due to form. Claudio Aquino made a return to the club, after a short spell at Spookeynoodlethorpe, managed by Jookoi. He immediatly scored again, after leaving the club while being on 2 goals. Robert Mak, who is now transferred to Mr Red, is still on spot 2, with 3 goals from the wings. Same goes for Brandley Kuwas, also 3 goals, he still under contract at AZ Alkmaar. On the 3rd spot we also have 3 players. Mehdi Abeid managed to score 2 goals as a box to box midfielder, impressive. Angel Romero is still stuck on 2 goals, he should be converting more chances. Alessandro Matri also scored 2 goals, as a stand in for Sebastian Driussi. Alessandro Matri is now playing for Jeeemy, we thank him for his services. All in all, not a one man team, everyone can score a goal. Diversity.
ASSISTS
Sebastian Driussi, Mehdi Abeid, Alessandro Matri, Angel Romero - 3

Egidio, Andre Horta, Robert Mak, Brandley Kuwas - 2

Michel, Claudio Aquino - 1

Sebastian Driussi and Angel Romero are still leading the charts after 12 games, this time they are accompanied by Mehdi Abeid and Alessandro Matri. Both Driussi and Romero are still stuck on 3 assists, the same number they were on after 6 games. Luckily other players stept up, Egidio, Robert Mak and Brandley Kuwas all managed to get 2 assists, putting themselves in spot 2. In spot 3 we have Michel and Claudio Aquino with an assist. Alot of players with the ability to give the final ball. Helpful.
CLEANSHEETS
1. Tomas Vaclik - 3
Tomas Vaclik is still on a dissapointing 3 cleansheets. The same number as he was on after 6 games. AZ Alkmaar used the statistics to analyse their problem, besides the main issue being KONAMI, it might also have to do with the defensive departement. Normally AZ Alkmaar was a fortress, hard to score goals against. Again, KONAMI plays a big part ofcourse, but at AZ Alkmaar the focus at the training is going back to the basics. Fortify.
HIGHEST AVERAGE RATING
Sebastian Driussi - 6.59

Robert Mak - 6.36

Angel Romero - 6.25

Sebastian Driussi now has the highest rating, contributing with a total of 9 goals. A scoring striker always receives good ratings, so it wont be a big surprise he is leading this chart. Robert Mak dropped to the 2nd spot, which isnt a surprise, last time he averaged a 7.00, but that was mainly with some supersub appearences. Angel Romero takes the 3rd spot, with an impressive 6.25, he stays a big threat from the wings. The average ratings might not seem high, but we have to take into account that KONAMI does not always appreciate good play. Pundits
MOTM
Sebastian Driussi - 3

Robert Mak, Brandley Kuwas - 2

Angel Romero, Alessandro Matri - 1

Sebastian Driussi is now leading this chart on his own, with 3 MOTM performances. He is followed by Robert Mak and Brandley Kuwas, who both had 2 MOTM performances. In spot 3, we have Angel Romero and Alessandro Matri, with both 1 MOTM performance. Crucial.
Summary
Here the full layout of STATS, after 12 games. Geeky.
TRANSFER NEWS
AZ Alkmaar has been busy on the transfermarket, so expect some new names in the next part of STATS & STORIES. After analyzing all the stats and performances, AZ Alkmaar decided to strenghten the defence, to try and get back into form. Cristiano Biraghi has joined from St Pauli (Seanachais) for a staggering 25M, he will be replacing Egidio in the starting 11. On the RB position, AZ Alkmaar managed to get Daryl Janmaat into the team, for a splashing 23M from Montpellier (Mr Red). So the LB and RB positions were improved, but AZ had to let go of Robert Mak, who made a transfer to Montpellier (Mr Red) and Alessandro Matri, who made a transfer to Deportes Temuca (Jeeemy). Both will be missed, as you can see in the STATS. AZ Alkmaar also managed to get a hold of promising striker Pieros Soteriou.
AZ Alkmaar will be chasing some good results again!
Thanks for reading, and see you next time for part 3!